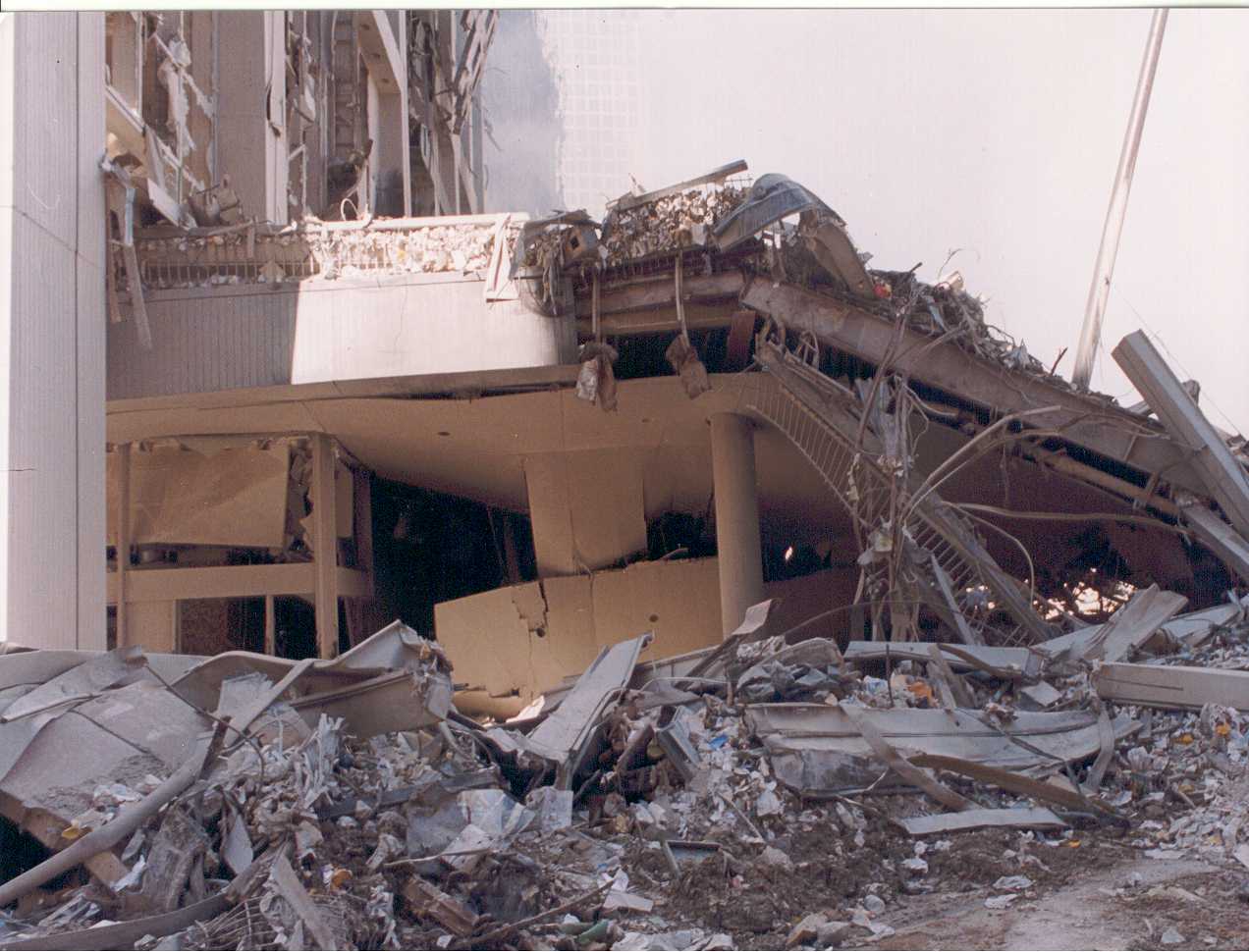 New Yorks Bravest
*** DETECTIVE ANA ALVAREZ IS A 12 YEAR VETERAN OF NYPD AT MANHATTAN SOUTH. SHE IS ALSO VICE PRESIDENT FOR POLICE OFFICERS FOR CHRIST IN NYC. WE FIRST CAME TO KNOW ANA IN MAY BEFORE WE ARRIVED FOR OUR 8 DAY MISSION IN NYC. SHE AGREED TO BE OUR ANANIAS AND LEAD US TO POLICE OFFICERS THAT WERE HURTING AS A RESULT OF 911, OFFICERS THAT WE COULD DISCIPLE AND OFFICERS THAT NEEDED TO GIVE THEIR LIVES TO JESUS CHRIST. THE LORD USED HER IN A MIGHTY WAY FOR IN THE SEVERAL MEETINGS SHE SET WE KNEW THEY WERE DIVINE APPOINTMENTS AND GOD WAS AT WORK.

Dear Brethren of E.V. Free Church Of Corona,
I want to thank all of you who have prayed and been a part of this missionary trip to New York City. Having worked in Ministry for some time now I know that people as individuals matter in building churches, and the whole body of Christ makes sure that it is functioning as it should be. It has always been my impression that when a chuch is healthy and doing what it should be, its members feel capable of extending themselves further in ministry to help others who are unable to go the distance. Because of your combined efforts and prayers several servants of your church saw it fit to come and bless us during a time we so desperately needed assistance. Since 9/11 the very foundations of our churches here in NYC have been shaken. A tragedy of this magnitude left many of us; myself included at times unable to pray. How do you find words to pray in the wake of thousands dying in a brief moment? How does the prayer of our hearts reach out when a pain envelops us so large we cant put our arms around it? At times it has even been hard to breathe as pain, panic attacks grief, and heartache all hit you at once. How do you deal with the fact that someone you saw in the morning will never come home? For many of us it wasnt just one person who never came home it was many we lost. I remember on 9/11 as I made my way down to ground zero thinking that what I was experiencing must have been what Paul spoke about in 2 Corinthians when he spoke of being burdened beyond measure, and that he despaired even of life. I could not imagine back then how we would ever get through this. I am a Christian, and was on 9/11, I know it is so much harder for the unsaved to reconcile eternity or a future without their loved ones. It comforted me throughout the past year to meet so many who prayed for us. I knew that many times those prayers were what kept us going when we reached the end of our natural strength. We spent many hours working amidst death, decay and destruction. I remember looking up at what we called the pile and thinking, God how will we ever clear away this horror to reach our families. Even a year later it is so hard to reflect on a time that can only be described as the Worst of times, and the Best of times.
2nd Corinthians Chapter 1:9 tells us that This happened that we might not rely on ourselves, but on God who raises the dead. We who survived this ordeal should have a more intense burden to reach people for Christ as a result of this tragedy. We should not go back to being as we were a year ago before this tragedy. Yet many have gone back to their pre 9/11 faith. I have seen many who initially reached out to help in the early days return to the comfort of their faith forgetting so many here with pain so raw they cant think. I will never stop thanking God that Your Church and a few faithful saints returned to help when we needed them most. Until I received a very strange phone call from Phil Presley informing me about the trip a group of dedicated Christians planned to make, I was functioning still on simple faith and adrenaline rush. I had just about run out of both when I got that call. I was so drained spiritually I debated for days whether the call was sincere or not. We have seen so much counterfeit Christianity in the aftermath of 9/11. Many who came under the guise of helping to minister, and simply gathering material for books or self-promotion. Almost like the hunter who stands on the neck of a wild beast he just shot in the jungle, men & women of the cloth came to be photographed in front of our mammoth. I was almost convinced that I needed to run and hide like Elijah on the mountain when I finally returned the call that was to change my life. You see it wasnt just 9/11, or the thousands of deaths, or the blood, fire, violence, decay and other graphic images that will never leave you that devastate us. It is also that despite all this, life still runs its course and other tragedy and difficulty befall us to add to our mountain of grief. My mother recently died, I am a single parent of a child with neurological problems, in a highly stressful job now compounded by insecurities fueled by terrorist attacks. I know I am not the only one who has so much to deal with despite 9/11 in NYC. This is what many of us here face daily. Yet many forget this and have left. Some will return to say they were here on the 9/11 anniversary. There may even be some sincere who want to help. More though will be here just to say they were here. Akin to being in times square on New Years eve to watch the ball drop. Your group was not like that. Every person showed so much selfless sacrifice in reaching out to the hurting. When they said they wanted to reach out and help. Each person did. To every hurting person I led them to they helped to bind up their wounds. Not one person who met with any of them left the same. Each person experienced just what I did. It was a feeling of refreshment in the spirit. We sensed a hope and new found strength in our vision of who God was. I know what we were seeing was Jesus in the people who came. If I had to describe NYC now a year after 9/11 I would say it feels like the road to Emmaus when the disciples were downcast speaking about all that happened up to the crucifixion. They knew Jesus, had heard all that he said; yet they found it hard to understand he was right there with them. Afterwards he revealed Himself to them they realized their hearts burned as He spoke to them. Our contact with Jesus should leave us with a burning desire to draw closer to him, and help others that way. Your group helped us to see Jesus. They spoke and encouraged us and left the fire of the Holy Spirit to strengthen us. They brought with them fresh wind and fresh fire to help us to be able to see Jesus again. For some that did not know Jesus, they ran alongside the chariot like Philip did to share with them knowledge of salvation through Jesus. They reminded me of the early evangelists, no job was to small or large for them to put their hands to serve at. I know that I will never forget their visit, and sacrificial giving of themselves. It helped to restore my faith that there were others still left out there wanting to take the time out from their journeys to help the Samaritans that are wounded by our wayside. They could have looked the other way. The work was difficult. We are not an easy bunch to minister to. The police alone are a hard bunch to reach out to. We survive on the basis of looking like we have all the strength to get the job done. Trust me it is hard to talk to people with guns about Jesus. We even intimidate our own kind. But the group that came down did so by Gods strength and with his mercy. They let the Holy Spirit lead them. They worked long hours in dismal places at times, and they always had the Kind words of Jesus on their lips. They shared the Balm of Gilead. I often felt when ministers came, spoke and left, that somehow the visit was too short, that we were left in our own strength to keep up with what they left behind in ministerial work. The group from your church was the first one that left and I felt like only the location of their assistance changed. They were still with us. Each life so impacts many others. This group of ordinary people serving an extraordinary God caused a ripple effect that was noticeable in everyone they met. One detective I know mentioned to Phil, I know your group had something encouraging when Ana wasnt call me for assistance. While they were here they worked and eased the burden from our tired souls. They gave us rest in the Lord. They did the battle for Christ in our stead many times. Someone was available at all times. They encouraged us as Jesus did on the road to Emmaus to go back and tell others of Jesus. I usually tell ministers not to forget about us and continue to keep us in prayer. I dont feel I have to tell that to your group. I know they will not forget to pray. The only thing I will ask for in prayer from you is that God may send others who like your group can come along side us and do for us, without a hidden agenda, what your people did for us. They shared the love of Jesus and did what Jesus would do. Then we could see and feel the hope that keeps us alive despite any adversity. Because of your visit we understand better how although we are outwardly perishing, inwardly we are being renewed. Thank you for doing what was spoken of in Acts 13: 47 For this is what the Lord has commanded us I have made you a light for the Gentiles, that you may bring salvation to the ends of the earth Thank you for sharing that light which is the reason for our Hope. God bless you all.
Yours in Christ,
Ana Alvarez
NYPD Detective
VP II- Police Officers For Christ
Listen to Ana' dynamic bold witness for Christ..by clicking on link below to Decision today, 9/30/2.

Reaching Out to Police Officers


New York police officer Ana Alvarez has been on the force for 16 years. She talks about her faith and the first time she received a Bible from
Peace Officer Ministries.
Alvarez talks about how the events of September 11 helped her become a bolder witness for Jesus, especially to her colleagues.
from the September 30, 2002 broadcast of Decision Today ..go www.decisiontoday.org
©2002 Billy Graham Evangelistic