We have worked closely with these ministries and found them to be on God' agenda and not mans in supporting our troops.

Project Prayer Flag
www.projectprayerflag.org

Hire Patriots
www.hirepatriots.com

Shields of Strength
www.shieldsofstrength.com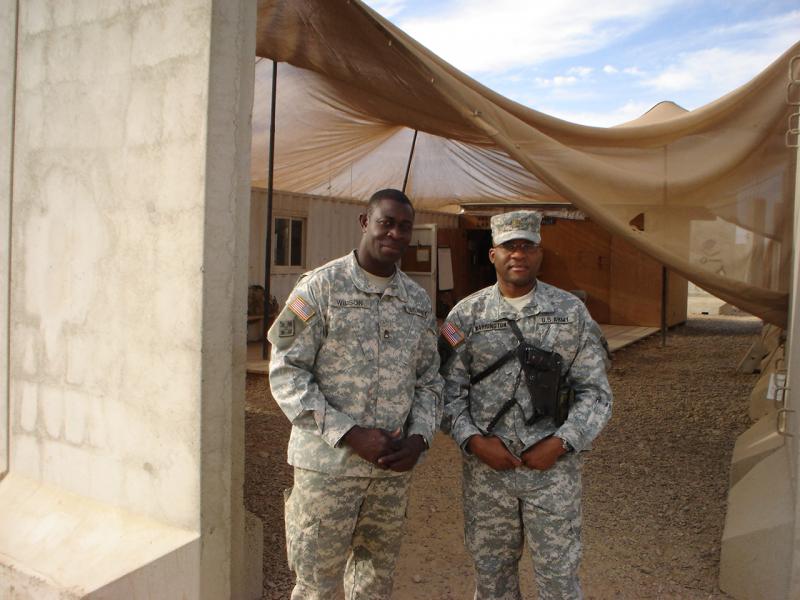 Praise God!

New ministry and Website of Maj Warrington...for Armed Forces...

www.faithtochange.com



-------Original Message-------

From: Warrington, Bernard MAJ HQDA DCS G-3/5/7
Date: 2/5/2008 6:05:23 AM
To: Phil Presley
Subject: RE: Nehemiah 6..Build that Wall..Oh NO! In Ono (UNCLASSIFIED)

Classification: UNCLASSIFIED
Caveats: NONE

Phil....outstanding encouragement to not weary in our work for God.

Appreciate it....please visit my devotional website: www.faith2change.com

It is part and portion to a daily devotional ministry written and emailed to
Servicemen deployed and stationed overseas and to others in the US desiring
to have 'fresh manna' in the morning....additionally, provides distribution
of books to those who request books based on those listed on the resources
page. It began with Sis Buster emailing the brothers and then she
transitioned it to me in November....

Appreciate the word...yes, we must keep on keeping on knowing its not about
us, But Its about Him.

Regards,
Bernard
"Deus Dat Incrementum"
TWENTYNINE PALMS MINISTRIES
5610 Mariposa Ave
29 Palms, CA 92277

760 367-7268

760 987 0939 cell porterrp@roadrunner.com

Cadence International, P O Box 1268 Englewood, CO 80150

Providing Spiritual Care for the Marines of 29 Palms



FEBRUARY 2008





29 Palms Ministries

Ralph and Wilma Porter

5610 Mariposa Ave
Twentynine Palms CA 92277-1444
USA

760.367.7268

ralph.porter@cadence.org

We are an outreach of evangelism, discipleship training, and mission envisionment for the Marine Combat Center community. We also cooperate with the chapel services and chapel activities.

Weekly Marine and Sailor Bible Studies and Chapel Services

Wednesday
1800 Bible Study, CH Mike Taylor's Home
3114 D. Upshur St, Ocotillo Heights, Base
Office Ph 830.4571

Weekly Sunday Protestant Chapel Services
0800 Non-Denominational Service
0930 Traditional Service
1830 Gospel Service with fellowship, Subway sandwiches and drinks afterwards

For His redeemed our Lord Jesus instructs, "It is written, 'Man does not live on bread alone, but on every word that comes from the mouth of God.' " Matthew 4:4, Deut. 8:3

All Scripture is God-breathed and is useful for teaching, rebuking, correcting and training in righteousness, so that the man of God may be thoroughly equipped for every good work. II Timothy 3:16, 17

Monthly Activities
Mission trips are made with the Mexican Christian Childrens Aid (MCCA) mission truckers to Mexico. The marines assist in the unloading of 20 tons of food to the 40 orphanages and churches in the Baja Peninsula.

Holidays are celebrated with dinner, worship, games, and fellowship in our home.

Biography of Ralph & Wilma Porter
Ralph was born and raised in Ohio. He was drafted into the U. S. Army after graduating from Bowling Green University and found himself being sent to the Philippines. Stationed at Clark Air Base, He was invited to a Bible study at the home of Sgt. Allen. Sid Hendry was the teacher. Through the ministry of Sid and the Word of God, Ralph became a Christian and participated in Bible studies, witnessing opportunities, and mission trips. C. P. Tarkington also had an influence on Ralph as did Chuck & Jane Hall.

Wilma grew up in rural Yuba, Wisconsin, on a dairy farm. She attended church from birth and was saved at an early age. The desire to be active in missions grew from reading books about missionaries. After graduation from high school, Wilma went to Moody Bible Institute in Chicago to receive Bible training. During her senior year at Moody, Ralph came to Chicago with a desire to attend Bible school. He began employment at Moody and in September of 1962 married Wilma.

Ralph finished Moody Bible Institute in January of 1965. Their first child, Rebecca, was born in February. Having applied to Overseas Christian Servicemens Centers, Ralph & Wilma moved to Denver at the end of March 1965. They spent five months as candidates working in the home office.

The following is a brief history of the Porters ministry with OCSC/Cadence International:
1965 Accepted and began Deputation in August
1966-67 Attended Missionary Internship in Wayne, Michigan
1967 Daniel was born in February
1968-69 Finished deputation and were assigned to Kadena Christian Center, Okinawa
1969-71 Transferred to Subic Service Center, Philippines
1970 Rachel was born in March
1971-72 Home assignment was spent mainly in Wayne, MI
1971 Ruth was born in November
1972-74 Returned to Kadena Christian Center, Okinawa
1974-76 Transferred to Hansen Christian Center, Okinawa

1976-77 Home assignment was again spent in Wayne, MI
1977-81 Returned to Hansen Christian Center, Okinawa
1981-83 Extended Home Assignment in Wayne, MI
1983-89 Began Ministry in 29 Palms, CA
1988 Rebecca was killed in car accident in February
1989-90 Home Assignment based from 29 Palms, CA
1990- Resumed ministry in 29 Palms CA

This brings us to the end of thirty-some years with the Mission, serving our Lord Jesus Christ. Ralph greatly enjoys the challenges of evangelism among military people. We hope to continue until Jesus comes or we are transferred to Heaven!